Statistics can be found under Function. You can retrieve statistics on the work you have performed, consumption of articles and time spent on a customer, a facility etc. The results from your searches in the statistics can be downloaded in a csv file so that you can, for example, process the data further or use in a presentation.
The possibilities are many and it is always possible to produce statistics – even retroactively.
The statistics can be tailored to your wishes in order to obtain what is important for your business. Contact us and describe your needs!
Here are the different parts that are in statistics today.
First select what type of information you want:
Work order
Service protocol
Articles
Time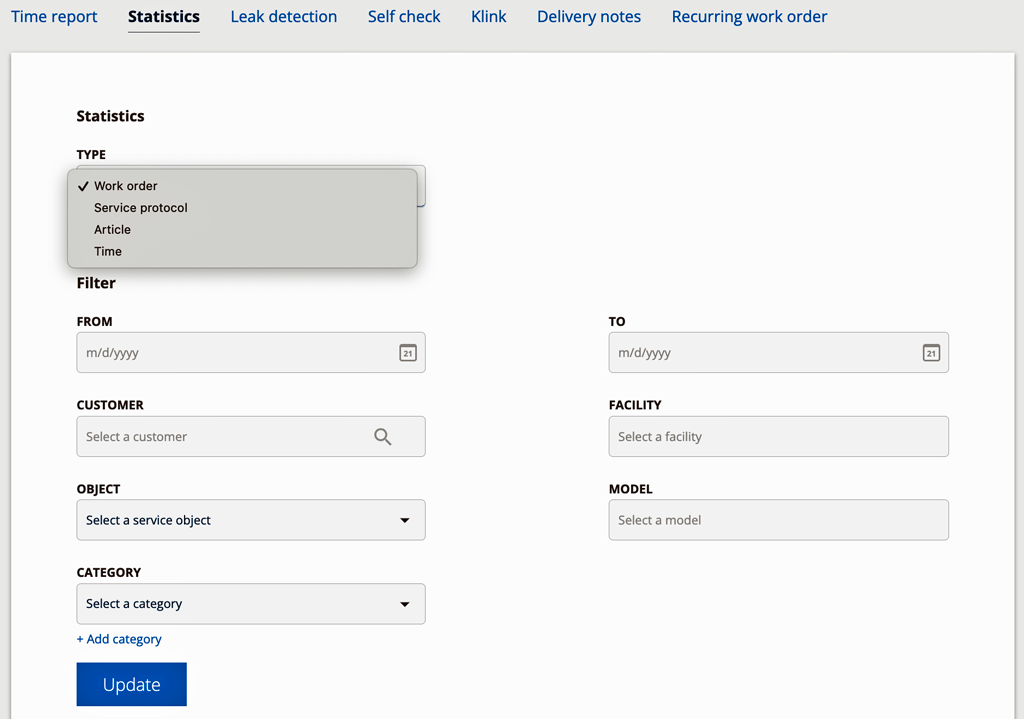 You can filter your search on:
Time interval
Customer
Facility
To search for a facility, you must also enter the customer.
Service object
Model
Category
Category is used, for example, to produce information about a certain type of model from one or more customers. To identify such, you put these service objects together in a category. Click + Add Category.
This function can be used, for example, to see if you have models that often have the same kind of problem.
Work order
Here are a number of additional filters to set up to get the exact statistics you need.
Show canceled 
Show signed 
Show invoiced 
Show number of measures 
Show ordered parts 
Show response time 
Show completion time
The result is displayed in a table, in a compilation and a csv file to download for further processing. Select sorting by clicking on the headings. An arrow shows which sorting is being done (see Image 3).
If you want to review an individual order, click on the order number in the list.
Service protocol
Lists all service protocols and the gross and net items retrieved from the article register, ie not from the service protocols. Also note that items that are set as Transfer to time report are not included.
Articles
Select sorting by clicking on the headings. An arrow shows what sorting is being done. In the example below, the list is sorted by description in alphabetical order from A (numbers first) to Z.

Time
Here you can view time per user including external resources, see time worked, holidays etc. The time is shown in a diagram and in numbers.