Under Purchase orders, you manage all your purchase orders. You can quickly add a purchase order, send it via email, print it, upload attachments, etc. And, if you use the function Storage, when the order is delivered – make a delivery to a storage.
There are two ways to create a purchase order.
Under the Purchase order menu in the Perform tab.
Click the +sign to create a new Purchase order.

2. Create purchase orders directly in a Work or Service Order.
Add to the order the items that need to be ordered. Click on the shopping cart symbol and a purchase order will be created automatically.

Choose if you want to add the articles to an open purchase order (i.e. not sent to the supplier) or create a new purchase order. Image 2.

You can also download the list of items to buy. Click on this symbol in the Purchase order tab.

To change in a Purchase Order open the order, by click on the gear in the right part of the purchase order and select Edit och open the order and scroll to the bottom to find the button Edit.
To place your order, click Send. The system then opens a popup window and creates a pdf that can be emailed. An administrator may have entered a default email address, otherwise enter the desired address and click Send.
Status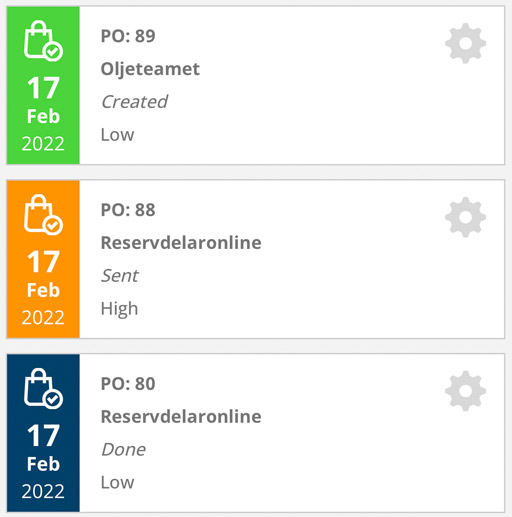 Just like in other orders, you see the status of your purchase orders through the color markings: Green for Created, orange for Sent and blue for Done.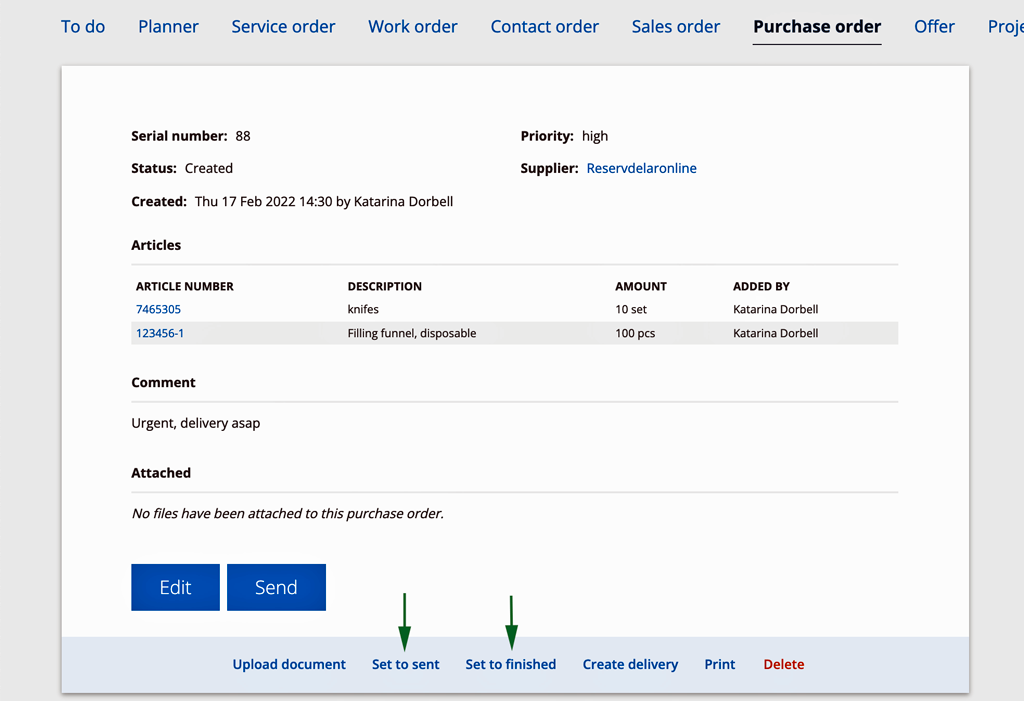 Information for Administrators
User permissions concerning Purchase Order: View, Edit, Create, Delete, Send, Delete Uploaded Files.
Under Group Settings – Module settings – Edit Purchase Order Settings, you can enter a default email address for sending purchase orders and create descriptive texts for Prioritization suggestions.