The Quotation function helps you to compile a Quotation with all the necessary information. You can find the feature under Perform.
The quotation can be printed, for example, as a pdf. Once the customer has accepted the quotation, you generate a work order with a single click.
Search Quotations
In the search field, search for the customer's name or customer number.

Click this symbol to open the search filter. Then you can enter the date range on the quotation you are looking for.
This is what the list of your created quotations looks like. Click on the "gear" to change, view or delete the quotation. Of course, you can also open the quotation by clicking anywhere in the field for each quotation.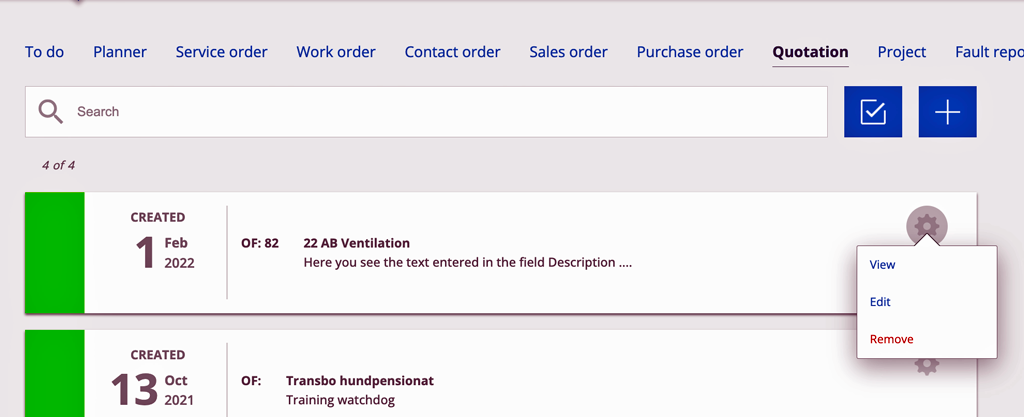 Click on the plus sign to create a new quotation. Fill in the information you want to include.
Customer
Search among your customers. If the customer is not in your register, fill in the name and the system automatically adds the customer to the Customer register.
The information about payment terms and default interest is retrieved from the settings you have made in the Quotation Settings. See more under Information for admins for Quotation Settings.
Validity period
Fill in the date of validity of the quotation.
Shipping Address
Fill in the delivery address if it is different from the customer's address.
Description and Articles
Describe the content of the quotation and add the items to be included in the quotation. The article information are added from the Article Register.
Read more about Description under Information for admins.
Save
Do not forget to save the quotation!
Upload documents
You can also upload documents linked to the quote, such as condition attachments, drawings, leaflets …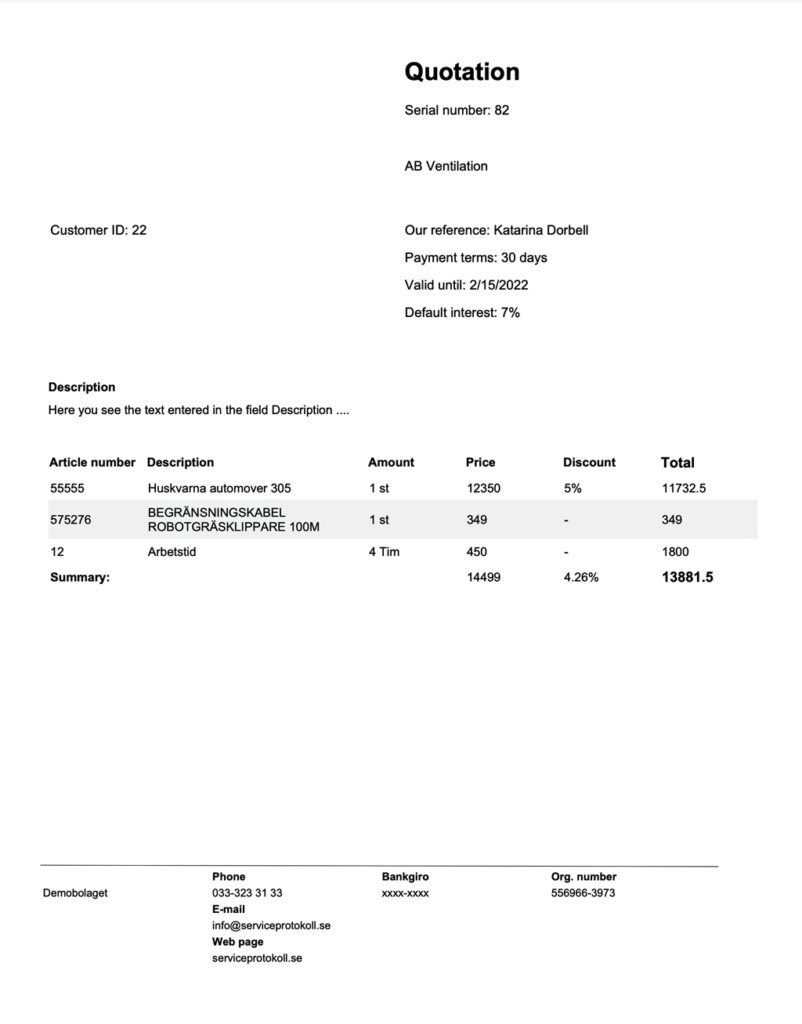 Print the quotation
You can print or save the quotation as a pdf and then email it to the customer.
If you entered a logo and chose to use a footer , these will be included in the printed quotation.
You make settings for this, by signing in with your admin account, under Group settings – Module settings – Edit print settings.
Read more under information for admins below.
Generate Work Order och Sales Order
Click Generate Work order to create a Work Order or Generate Sales Order to create a Sales Order based on the quotation.
Information for admins
Sign in with your admin account and go to Group settings – Module settings – Edit quotation settings.
In the picture below you see the settings that can be made for quotations. In the Default description field you can enter text that you usually include in your quotes so you do not have to fill in the text every time. The text can be changed on the individual quote without changing the Default description.
Changing the Quotation settings does not affect already written and saved quotes.
Quotation-related user permissions
Create, View, Edit, Delete, Delete Uploaded Files linked to quotation.