Updated 2023-02-21 Notification settings
Under your account settings, you choose how you want to be notified of assigned orders, can change passwords, see your activity log etc.
If you handle more than one group you change the group in your account settings.
Click on your username in the upper right corner, if you use a computer, or at the bottom of the menu, if you use a mobile device (see picture).
You can change your name and password, connect to a google account, upload a photo of yourself and view your Activity Log. The log saves all your activities in the system.
Which setting options you see depends on what permissions you have. If you have questions about it, talk to your administrator.
Forgot password + New admin account
If you have forgotten your password or are assigned an admin account, click on the link "Have you forgotten your password?" in the login box. Fill in the account that the reset applies to. The recovery link message will be sent to the email address associated with your user account.
When you, as a new customer, create an account/group on Serviceprotocol.com, a user account and an administrator account are automatically created. The password is the same for both until you change it yourself for one of the accounts.
If you change the password on one of the accounts, the other account's password will not be changed.
Change group
Are you an administrator for several groups / companies? Click Change Group located at the bottom of the page. You will then come to the start page – Select portal – and can choose which group you want to change basic settings etc. for.
Settings that can be made
Select Landing (Home) page
Choose which page is your "home" page when you sign in to serviceprotokoll.se. If you are part of several groups, you can select the start page for each individual group. The default homepage is To do. If your company have chosen not to use the To Do-function the landing page is by default Work Order.
Landing page for admin accounts can not be changed from the Group Settings page.
Use local database (Offline mode)
This setting is used to save records on your local device. If the check box is checked, the supported registers will be downloaded and stored locally on your device. This means that you can access, for example, the To-do list and your settings in list views even if you do not have Internet access.
Note: you must open an order before you lose Internet access in order for it to be downloaded to your device!
By entering an order and clicking Execute before you go offline, you can execute the order, fill in all information, see information about the customer etc. What you have filled in is temporarily saved on your device, even if you leave that order view. When you then access the internet again, enter the order and click Save. You will receive a notification that you have an unsaved order.
Do not work for too long without a network, as there is a limit to how much can be stored locally.
Notifications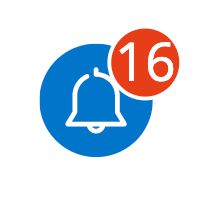 The notifications always appear at the top right of the screen when you are signed in to the system.
Send email when notified
Sends an email to your email address when a new notification is created. For example, if you are assigned an order or a assigned customer user creates a fault report.
Choose which activities you want notifications about under the header Notifications.
Send SMS upon notification
Enables SMS notifications. Enter your number in the field Phone with + and country code (+46xxxxxxxxx)
Choose which activities you want notifications as about under the header Notifications.
Send push notification upon notification.
Enables push notifications for your device. This allows the system to send notifications even when you are not signed in to the system.
NOTE: This only works on some browsers and phones. If the box is "grayed out", you have either denied permission for notifications or your browser / phone is not yet supported.
Service reminder
Activates a reminder in the form of a notification. It will be shown one week before a scheduled and unbooked service occurs. Service reminder can be obtained on assigned service orders or on all service orders.
Here you can also set which focus you want when entering articles – description or article number.
Get a copy of emails sent
Emails that you send out from the system always get your email address as Reply-to. If you want a copy of the email, click the box.
Notifications
Set for which activities and changes you want notifications.
Keep in mind that your admin account does not send email as it is not a "real" e-mailaddress.
Language
The system detects which language you have selected for your computer or mobile device. If you want to change, do so here, on the page with your account settings. If you change the language, it changes for all pages and for all functions.
NOTE:
texts that you have written yourself on an order or in your module settings will not change language.
if you have saved a work order etc. and then change language, notifications linked to that order will not be translated.
Information for administrators
Permissions for users related to activity log.
View all